Public Works: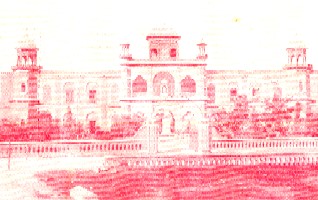 Raja Gokuldas Dharmshala built
in memory of Raja Gokuldas
with substantial support
from D.B. Jiwandas
None of the public work done by Diwan Bahadur Jiwandas was given his name. Whatever work he did was always in memory of either his father or some other family member. When the local Municipality decided to build a beautiful Dharamshala near Jubbulpore Railway Station to perpetuate the memory of Raja Sahib, Jiwandasji rendered great amount of financial assistance for the work. As far as it is known, nowhere else the city Municipality erected a monument in honor of any of its citizen.
But the Jubbulpore Municipality and town were too much indebted to Raja Sahib, the Premier Merchant Prince of Central Province, who rendered financial aid to the British Government for various public works. Chief Commissioner of Central Province, Sir. H. Caddock opened this Dharamshala in the year 1911. On this occasion, Mr. Caddock threw light on the life and work of Raja Sahib, the great benefactor of Central Province.
Afterward Diwan Bahadur Jiwandas erected a life size of his father in front of Dharamshala. Chief Commissioner of Jubbulpore, A. V. Napier unveiled it, in the year 1915. Speaking on the occasion, Mr. Napier enumerated on the works of Raja Sahib. He finally added, '….As a memento of this obligation to him the Citizens of Jubbulpore have raised to his memory this magnificent Dharamshala and now the pious affection of his son Rai Bahadur Jiwandas erected this Statue which I am about to unveil in order that his memory may ever remain green among us.'
The most cherished wish of his parents for the exodus of Shri Gopal Lal to the garden and for building a Dharamshala in his name, had remained unfulfilled. Jiwandas determine these wishes. Accordingly on an auspicious day, the image of Shri Gopal Lal was taken in a procession to the garden. The pomp with which the procession went is beyond description. On this occasion, Jiwandasji invited Shri Goswami Gopal Lal of Mathura and his Guru Shri Girdhari lal of Kashi (Banaras). Many others were invited for the occasion.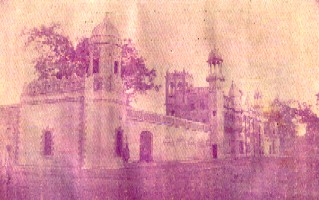 The Parvati Bai dharmshala, Khandwa
In the year 1919, Diwan Bahadur Jiwandasji initiated the construction of Dharamshala at Khandwa, to be named after his wife, in keeping with the last wishes of his mother Rani Chunni Bai. It was named Shrimati Saubhagyavati Sethani Parvati Bai dharmshala. The reason for building this Dharamshala at Khandwa was that his wife hailed from Khandwa. The building was completed in the year 1924, at the cost of about Rs. 2,00,000. The money was actually given by Sethani Sahiba from her private purse, which was given to her by her mother-in-law, Rani Sahiba.
This Dharamshala is situated in front of Khandwa Railway Station and was considered to be best of its kind in the whole country. Khandwa being an important Railway junction for Rajputana and Malwa, many passengers every day take their abode here. The marble bust of Sethani Sahiba was installed in the front on the first storey of the Dharamshala.
The Dharamshala was opened and the statue of Sethani Sahiba was unveiled by His Excellency, the Governor of the Central Province, Sir Frank Sly, K.C.S.I, I.C.S, on March 25, 1924. Speaking on the occasion, Sir Frank Sly said,
'….with great pleasure I accepted the invitation of Shrimati Sethani Parvati Bai to perform the opening of this commodious Dharamshala that has been erected for the convenience of travelers in her native town of Khandwa. She was born at Khandwa where her family lived, and it is a natural and graceful act for her to desire that the city of her birth should be benefited. The object selected by her for the benefit of her native town is most appropriate. A railway junction and a town of growing commercial importance, it is visited by large number of travellers for whom suitable accommodation is most desirable.'
He added, '…it provides excellent accommodation for various classes of travellers. Not content with spending large sums on the construction of this building, Shrimati Sethani Parvati Bai has taken great care to provide for its future. A trust deed has been executed, whereby a system has been laid out for the future management and for seeing that the objects of the trust are promptly secured. She has also given an endowment of Rs. 10,000, which will enable the trustee to maintain the Dharamshala in a suitable condition.'
Thereafter he pleasantly declared the Parvati Bai Dharamshala open. With characteristic grace Sethani Parvati Bai also associated the name of another lady well known in this district, Lady Robertson, the wife of predecessor Sir Benjamin Robertson, who spent several years of his service at Khandwa, and both of whom were bound to this district by ties of real affection. It was due to Sir Robertson's help that this most suitable site was secured, and the project was able to take final shape.'
'…. over the principal gateway is the bust of the donor, Shrimati Sauvbhagyavati Sethani Paravti Bai. Many travellers who will pass under this gateway will thus behold the representation of the lady to whom they owe the excellent accommodation and convenience that they will enjoy within the Dharamshala. They would shower blessing and prayers on the head of the lady, and hold her in grateful memory for her signal charitable gift.'
Lastly, Sir Frank communicated his gratitude towards Diwan Bahadur Jiwandas for inviting him for the programme. Besides this, he also inaugurated the Lady Robertson fountain, the handsome marble fountain in the Central court. For he was of the view that her name (Lady Robertson) would still be held in grateful memory by the citizens of Khandwa, and all this has been commemorated in such a fitting manner by another Khandwa lady (Shrimati Sauvbhagyavati Sethani Paravti Bai).
Prior to this, Diwan Bahadur Jiwandas built a Dharamshala in memory of his mother (Rani Chunni Bai) at Ajmer. In this selection of the place, he was guided by two considerations. First, she was born in Rajputana and Ajmer being the chief city on the way to the famous pilgrimage place, Pushkar. He also set up a marble bust of his mother in the Dharamshala. Mr. H. F. Mayes, the Commissioner of Jubbulpore, unveiled it.
Diwan Bahadur Jiwandas: The Changed Man
In later part of his life Diwan Bahadur Jiwandas was a transformed human being. An altogether changed man. He had become more devoted towards religion and gave up pomp and show surrounding life of elite class of the time. His son Seth Govinddasji had plunged into the contemporary national movement, thus going against the wishes of Diwan Bahadur Jiwandas. This had given Diwan Bahadur Jiwandas a severe emotional blow. But at heart, Jiwandasji still remained a family man and had great affection for his son, in spite of all the ups and downs that the father - son relationship went through.
At one time, when Gandhiji gave the call to boycott foreign made clothes, Govinddas following in his footsteps boycotted foreign clothes. As a result of this, the Manchester agency at Bombay had to be closed down and great loss was incurred by Diwan Bahadur. In another instance, when Gandhiji gave the call to the farmers, to not give tax to the British government, Govinddas stood up against his own father. Liberal-hearted Diwan Bahadur paid all the tax to the British government from his own pocket so that his son would not get into trouble. Such was his love for his son.
In the final leg of his life all his heart yearned to see his beloved son, who was in jail for participating actively in the freedom movement. Finally his wish was granted and he was able to see his son, Govinddas, before leaving this mortal world.