Hobbies and Tastes:
Diwan Bahadur Jiwandas or DBJ was a man of great tastes. This is attributed to his royal upbringing, both at Jaipore and Jubbulpore, which contributed in developing Jiwandas's passion for the materialistic and flamboyant lifestyle which very few could afford at that time. He paid less attention to the business empire built by his father, Raja Gokuldas, spanning the country, with business establishments and factories located at places of trade importance. Jiwandasji relied on his Gumastas and Munim in matters pertaining to business. As a result of his negligence, greater price had to be paid by him in the coming time, whereby a large portion of family property had to be given to creditors. However, his taste and style at that time was a subject of envy even for some of the ruling royal princes and kings.
To begin with, he had a passion for horses. His stable had the 300 latest breed of horses of time. Separate arrangements of horses were there for Polo, horse riding and horse-drawn carriages. With horses, he also developed love for horse-drawn carriages. He had wide variety of carriages in his possession. His collection was always the talk of the town, as and when they made their way through the roads of Jubbulpore. For the horse-drawn carriage, there were horses belonging to English and Australian 'Baller' breed. While for horse riding he had horses belonging to Arab, Kathiyawadi and Marwadi breed.
Pairs of similar colored horses were connected for horse-driven carriages. Amongst the numerous carriages owned by Diwan Bahadur, a carriage named 'Chadder' was his special possession. It was a remarkable carriage where horses in pairs of 4 were connected to the carriage. The total number of horses connected counted to 16. These used to walk in postralian manner. For every pair there was a coachman to guide. The carriage used to be followed by eight 'sawars' on foot all dressed up in uniform and carrying flags. Jiwandasji also had a silver plated carriage which could be knocked down, folded and transported. He used to use this carriage at Jubbulpore as well as Jaipore.
In addition to this, Jiwansdasji had love for wide variety of watches. Watches with different looks, foreign as well as Indian, were among his priced collection. He had some of finest gold, silver, jewelled and hand painted pocket watches. Not only did he have some of finest pocket watches but also he adorned the walls of his palace with numerous wall clocks.
The Diwan Bahadur engaged Laurie, a well known English photographer of the region, for the first family of Jubbulpore. He had very close association with Jiwandasji and greater number of photographs taken by Laurie adorned the interior of the beautiful mansions of Jiwandasji. Most of time photographs were taken by Laurie but few were also taken by Raja Deendayal, one of the most eminent photographers of the time. Sometimes, Diwan Bahadur himself also photographed. While taking photographs of women members of the family, Jiwandasji used to be present on the occasion, as it was not customary for women folk to come out of pardah. Since at the time photographs were only black and white, color portraits were also made of family members. The art of hand painting the black and white photographs was also prevalent at the time and numerous such works of art were commissioned by DBJ.
Jiwandasji also collected jewellery, paintings of the Nathdwara school, miniatures paintings, fine weapons, furniture, etc. He was not only a collector but was also a person capable of using and displaying the right things at the right place and time. Diwan Bahadur was very particular about his possessions and his staff which numbered several dozen munims & servants were perfectly trained for keeping everything clean maintained and in fit condition. When not in use or display his collection items were kept properly packed, usually in quilt bags in various stores.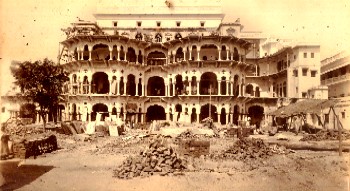 One of the palaces under construction
Jiwandas was a great entertainer and his parties were popular not only amongst the English of the time but also with the various Indian kings and princes. He would serve a wide variety of cuisine in honor of the guests and the finest wine. For special occassions he also used to call the finest dancers of the country to perform for his guests.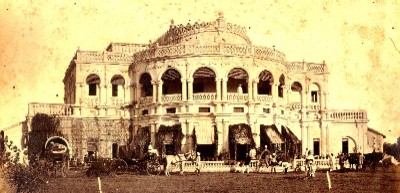 One of the kothis of DB Jiwandas
He also built and decorated his palaces, kothis and bunglows in the best possible way. Craftsman from various parts of the country, especially from Rajasthan were called for construction. These had marble floors of different colors, tiles from England and France were used on the walls, and exquisite Belgian mirrors decorated the verandahs.
Govind Bhavan: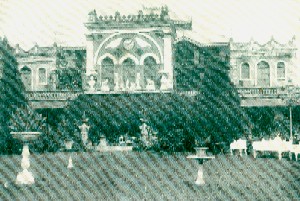 Govind Bhavan – Outhouse of DB Jiwandas
In the year 1909, Jiwandasji constructed this grand Kothi as a residence of Rani Chunni Bai, widow of Raja Gokuldas. In keeping up with the taste of Diwan Bahadur, it was elegantly furnished with the best English and French furniture of the period, and its garden were adorned with dozens of Grecian Urns and sculptures and twin Italian marble fountains. The formal sitting room had a crystal fountain in the centre. There were arrangements for tennis, riding, croquet, etc within the premises. The mansion was also equipped with the finest crystal and china. It could be summarised as heaven on earth with all luxuries of life. Most of the garden parties hosted by Jiwandasji in honor of his guest were generally organised here.
But over the period of time, when the family fell into debt, this magnificent mansion was mortgaged and was finally given to the creditors. It now lies forlorn and abused, its draperies moth-eaten, the statues stolen, its chief rooms locked and uncared for. Most part of the building is being occupied by the state Road Transport Office. But its lost grandeur can yet be visualized by the Stucco walls inlaid with coloured glass and the Dutch and German ceramic tiles and richly moulded ceilings which, although crumbling, can still be admired. In its heydays, the mansion could easily have rivaled the opulence of several of the Maharajas of India.
The Delhi Durbar:
In the year 1911 the Delhi Durbar was organised for England's King, George V. Only the selected few Maharajas of the country were issued invitation to be part of this grand function. Since Raja Gokuldas and his family were one of the leading business & banker families of the country and were one of the largest landlord they were also invited to attend the Durbar. The British also took the help of Jiwandas's father and ancestors on several occassions, even borrowing money from them. So keeping this in mind, the British government issued invitations in the name Diwan Bahadur Jiwandas and his cousin Diwan Bahadur Ballabhdas.
Both represented the city of Jubbulpore in the Durbar and made their presence felt. It was said that even the carriage of King of England seemed to lose its magnificence in front of the carriage owned by Diwan Bahadur Jiwandas.