As Political Prisoner in Jubbulpore Jail
Experiences in Damoh Jail
: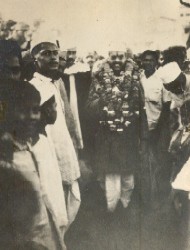 Seth Govinddas on his release from jail
Some say that the transfer to Damoh jail was arranged by Seth Jeevan Das ji who had good rapport with the British government and its officials. There were no other political prisoners and Govinddas ji could dedicate most of his time towards writing and reading.
During his eight months stay at Damoh jail, he completed three plays and one act play. These were 'Prakash' (social), 'Kartavya' (mythological), 'Navras' (philosophical) and 'Spardha'(one act play).
Vamanrao Lakhe and Seth Shivdas Daga were the first companions of Govind Das ji to arrive from Raipur at Damoh jail. Later Barrister Abhyankar, who was associated with Govind Das ji from 1923 to 26 for the 'Kendriya Dhara Sabhas', was also transferred to Damoh jail. Pt. Motilal Nehru passed away, while Govinddasji was in jail. Though for a country struggling for independence it was an irreparable loss, it was a personal loss for Govind Das ji. Motilal used to describe Govind Das ji as his second son and even mentioned it in a public meeting in Jabalpur.
Gandhi-Irwin Pact & Gonvinddas' release
Civil Disobedience Movement in Jabalpur

:
On the day of Gandhiji's arrest, countrywide strike was observed. Such strike was observed in Jabalpur also. With to view to extend their best wishes to Gandhiji on his arrest, a decision was taken to organise public meeting at 8 pm, at Tilak bhumi. Despite the harsh weather condition, thousands of supporters turned up.
But 15-20 minutes prior to the commencement of the meeting, a large Police contingent reached the spot with an array of horse-riders. Generally Govind Das ji used to be on time to reach the spot but this time, he along with Pt. Dwarika Prasad Mishra reached the meeting spot a little early. The City Kotwal along with many Inspectors were present on the occasion.
The historical public meeting
at Tilak Bhumi, Jabalpur
Govind Das ji, Mishra ji and Lakshmi Singh Chauhan who was the President of City Congress Committee decided to inquire about the heavy Police force presence. Since Mishra ji was Chairman of Jabalpur Municipality he often used to meet City Kotwal. He went and inquired from City Kotwal about their presence and was informed that the City Kotwal has come with government orders to arrest the leaders as soon as the proceedings of the meeting commence and declare the whole programme as illegal. They were instructed to dissolve the meeting and carry out lathi charge.
A bizarre suggestion to carry out the proceedings of the meeting without any verbal interaction was floated and agreed upon. After taking his seat on the dias, Lakshmi Singh Chauhan ordered for the Jhanda gayan. This was followed by his order to carry out the proceedings of the meeting without any verbal interaction. Leaders carried out the proceeding of the meeting in this manner for 3 nights and 4 days.
Even the public co-operated with the leaders and was present in large numbers despite the harsh winter weather. Seeing the enthusiasm of the people fading on the fourth day the leaders decided to delivery a speech at 5 pm.
It was Govind Das ji who stood up to speak first. Addressing the masses, he said that I decided to go to jail during the 1930 Satyagraha. But this time I pledge to sacrifice my life. Whether I'm there or not, agitation should continue. My farmers should not pay taxes to my father. In addition to this, he also declared to give up claims on the patriarchal property. After returning from jail he would not live at Gokuldas Palace.
While Govind Das ji was delivering his speech, City Magistrate declared the meeting as illegal and ordered arrest of the leaders. Within five minutes, lathi charge was order to disperse the public. Thus, Govinddasji along with Pt. Dwarika Prasad Mishra, Thakur Lakshmi Singh Chauhan & Baba Hiralal were arrested.
Govind Das ji's arrest along with others
Writings of Govind Das ji in Nagpur Jail