Nature and Life style of Raja Sahib:
Still waters run, deep, ruffled are the words, which candidly throw an insight into the nature of the man, who thought ahead of time. Though Raja Sahib was obstinate in his early age, but as he grew, he became a simple man with a kind and polite nature.
It was never heard of him to ill-treat any man. Whosoever came to him was treated with marked courtesy. It almost became a proverb amongst his acquaintances and his relatives that guests were nowhere entertained with greater hospitality than at Raja Sahib's Palace. But in spite of his simplicity if any one misbehaved towards him he would pay back in his own coin.
Raja Sahib never failed to take part in the marriage ceremonies and other festivities of his acquaintances. He held it a principle to visit his acquaintances at time of grief if not on joyous occasion, whether they were rich or poor. He did not possess a tinge of pride that usually comes with wealth and honour.
Despite the fact that Raja Sahib rubbed shoulders with European elite of the time, he remained a simple man with a heart of gold. He dressed up simply with a Turban, an angarkha and pyjama. He wore shoes made at Jaipore, but at times he used English shoes. He carried a small walking stick with a silver handle.
Although, Raja Sahib's palace was spacious, beautiful and well furnished, he used to live in a room, which was small and unfurnished, which he called 'Morha'. He lived a very disciplined life. He used to wake up at 3 am and would meditate and pray till 7 am. After this he would take little milk and then go out on foot to see his friends, his carriage and horse following behind him. He got into it only when the sun was unbearably hot. He would return back by 10 am and would visit Shri Gopal Lal's temple where he took bath once again and had meal with his wife after the Raj Bhog Arti darhsan.
It was regular practice on part of Raja Sahib to feed cows and poor people. After an hour of rest, he would turn his attention towards business issues and worked till 5 pm. During the evening, he would again go to friends or relative's place and returned home by 8 pm. After taking his meal, he would retire around 9 pm. Sometimes, before retiring, he would sit down with Seth Ballabhdas, Jiwandas and Munims (managers & accountants) on matters of real importance. It is during this time, all urgent letters and telegrams received in the evening were put before him and deliberations were held over them.
He had a wonderful memory. Once a person came to see him accompanied by another man, who was gaily dressed up. After formal exchange of courtesies the gentleman introduced his friend. Raja Sahib told the gentleman with apologies that he remembered to have seen his friend about 25 years back in Ballabhdas's wedding, while he was playing on cymbals in accompaniment to the songs of a certain songstress from Saugor. That turned out to be true. Similarly, he knew the names of majority of the peasants in his village from generation to generation and remembered the smallest details of events that happened years ago.
He was a man of strong heart and adhered to his routine even on tours to his village, which he visited frequently from time to time. Taking up of journey on foot of eight to ten miles was not of inconvenience to him even at the age of 70.
Sense of Humour:
He was gifted with a subtle and polite sense of humour, which was sometimes of great service to the community. An instance is quoted from the 'Maheshwari Patrika' (a community magazine) of Aligarh:
'Seth Ghasiram of Gadarwara expressed a wish to marry in his old age. This news somehow reached Raja Sahib. So, once when he went to Gadarwara to inspect his shop, he visited Seth Ghasiram and in the course of conversation he brought the subject of his marriage and said, 'Well Sethji, I was very glad to hear of your proposed marriage. Really, it is a laudable resolution on your part. By the way, will you invite me too to your marriage? I press you, simply because I have been to the marriage of many young men, but I have never attended marriage of a superannuated bridegroom. I feel, however, that through your kindness this great good fortune will soon be mine.'
Seth Ghasiram felt ashamed by this cutting irony of Raja Sahib and consequently gave up the idea of marriage. By means of such humour, he did the work of moral instruction and social reforms. As Raja Sahib used to make jests at other's expense, they too used to do likewise, but far from being offended he used to take them in good humour. He believed that in the realm of jokes there were no inequalities of wealth or position, and that a man who cuts a joke, ought to be ready to take one in return. He always remained cheerful. It was his nature, which touched whosoever came in contact with him.
His Religious Belief: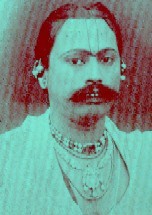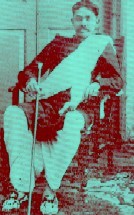 Spiritual Gurus of the Family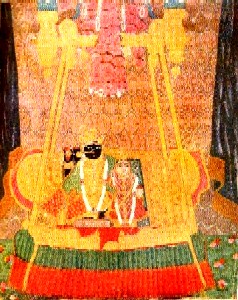 The Family Deity
Like his father, he too was initiated into the Vallabh sect, the cult that came into prominence in 15th century AD under the patronage of Vallabhacharya. Though, Vallabhacharya born to a brahmin family near Benaras in 1479AD he lived in the court of Krishna Deva of Vijaynagar empire in South India. He laid emphasis on the worship of Krishna as an incarnation of the Almighty. He preached that there was no difference between the 'Atma' and the 'Parmatma' (God). For he believed 'It is by means of Bhakti that one can get salvation and merge in him'.
Following the preaching of Vallabhacharya, Raja Sahib worshipped only one diety, Shri Gopal Lal, during his life. His wife too was introduced into the sect. Shri Girdharji of Benaras was his Guru. He was also the guru of his father. Over the period of time, Raja Sahib preserved the same devotion towards all the subsequent Gurus who came after him on the Gaddi at Beneras. Raja Sahib, as her predecessors held Shri Shayam Beti, who occupied Girdharji's place after him with same regard. She was succeeded by Jiwanlal ji. Great celebrations were held on the occasion of his visit to Jubbulpore. Gurus were invited for private family ceremonies.
Besides these he looked upon all other Acharyas of Vallabha sect as his Gurus. Shri Dewaki Nandanacharya who lived in Kamwana in Mathura district, was a learned man of the Vallabh sect. He too paid frequent visits to Jubbulpore and had good relations with Raja Sahib. All the Acharyas of the Vallbh sect, whenever they visited Jubbulpore, used to put up in the Raja Sahib's garden and were treated and entertained with great hospitality.
Raja Sahib's devotion to Shri Gopal Lal:
Whenever Raja Sahib was not travelling, he used to take his meal only once in the temple after the 'Raja Bhoga Arti'.
His devotion towards Shri Gopal Lal could be gathered from this small incident when Raja Sahib had an attack of Gout in 1888. The cramps had disabled him so much that he had to be carried in a chair before Shri Gopal Lal. For some time he had been under medication of good physician, but there seem to be no relief from the pain. One day he had a severe attack, as usual the servants took him to the temple on the chair. But he was unable to get out of the chair. As result of this, he could only pay his respect to the lord from his chair. He was much troubled at heart for his improper way of paying respect to his humble deity.
With streaming eyes he offered his prayers to the lord and requested him to reduce his plight. He was once again taken back on chair. Strangely enough, from that time his bodily pain began to abate gradually and he felt great relief. On the third day, he was able to go on foot to the temple. Needless to say, it was all due to his firm faith and devotion.