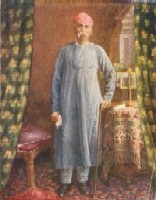 Raja Gokuldas (1839 – 1908)
Raja Gokuldas better known as Raja Sahib for the people of Jubbulpore, as it was known during the British Period, may well be described as the maker of 'modern Jubbulpore'. Although the contributions made by Raja Sahib have now passed into history but this does not make less oblivious for the people of Jubbulpore. Raja Sahib, the Premier Merchant King of Central Province rendered assistance in the form of large-hearted charities for the benefit of the people of his town, through the British Government and otherwise, whenever he saw the need for it.
Raja Gokuldas thought ahead of his time, believed in progress and had a vision of a successful and enterprising businessman. He was a successful agriculturist, banker, trader and industrialist with an estate spanning many districts, thousands of acres of agriculture, various kings, princes and government as his borrowers, trading shops in every major city of the country and industry of the scale unheard of in those days. But success alone was not the charisma that made him so popular, it was his humbleness and humility that made Raja Sahib such a famous and popular person within every segment of the society. Defying the contemporary wave of national awakening against the British government, he made significant contribution in form of various public works executed by the British Government, which have stood test of time, since their coming into being. He understood the needs of a modern town at his time and supported the efforts to give Jubbulpore those assets. Whether it is the Water-works at Khandari which supplies water to the city or Victoria Town hall or the Lady Elgin hospital which was one of the first women hospital in the region, all bear contributions of this one man. The difference, which he brought about for the people of his town in the form of public work, still bears his name.
Ancestral background of Raja Sahib: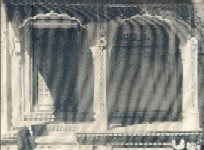 Ancestral house in Jaiselmer
The ancestors of Raja Gokuldas, belonged to the Mal-pani branch of the Maheshwaris, a Hindu Vaishya community. The premier scion of Malpani clan, initially lived at Jaisalmer, Rajputana. Seth Basantram was one of them and his Bhagiratha was among them. Bhagirath had four sons :- Sewa Ram, Girdharlal, Sardarmal and Gulabchand.
Sewa Ram had three sons, who were all born at Jaisalmer :- Ramkrishnadas, Kushalchand and Dwarkadas. Kushalchand, father of Raja Gokuldas, was adopted by Girdharlal, brother of Sewa Ram.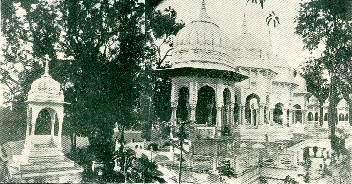 Cremation ground & Chhatris of family members at Jabalpur
Next