Jubbulpore : City of Marble Rocks
The very name of the city has been derived from Arabic word 'Jabl' meaning rocky mountain, probably alluding to the impressive and awe-inspiring rocky mountain formations on its southern periphery, originally the Gond settlement of Garha. While another version claims that the city is named after Sage Rishi Jabali, who meditated on the bank of the Narmada in the ancient times. But this may be erroneous since 'Jabalpur' exists as a name for less that 250 years. Prior to that the settlement was referred to as Purva (in Maratha times) or Garha (in Gond Times) and still earlier as Tripuri, the capital of Kalchuri dynasty, from 9th to 13th century.
Location and Climate
The city, located at an elevation of 1306 feet above the sea level, has always boasted a salubrious climate, save the few very hot days during the peak summers. The highest temperature ever recorded is 47 deg.C on June 2, 1889 and again on May 25, 1924, and lowest 0 deg.C on 24 December, 1878 and again on 2 December 1905. The average rainfall in the last century was 58 inches which has recently fallen by 3 inches due to extensive deforestation in the area. The maximum rainfall ever recorded is 98 inches (in 1885) and the lowest ever, 26 inches (in 1869).
Marble Rocks: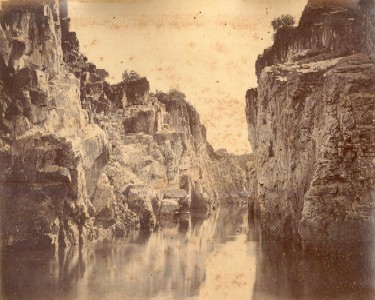 The Marble Rocks
Bhrigu Kshetra

or Bheraghat, the bathing ghat on the river Narbada, eleven miles from Jubbulpore, cannot be properly said to be in Jubbulpore and yet it is so much part of the city's mystique that no account of the city would be complete without it. Bheraghat bestowed with rich natural heritage of marble rocks possesses ample legacy of archaeological and historical importance strewn in adjoining area.
A moonlight boating trip on the river at this spot presents a scene of almost unparalleled splendor. One can sail upto 'Bandar Koodani' or 'Monkey leap'. Here the river runs through a narrow gorge, which it has carved in the rocks of marble, the sides of which tower some 100 feet above the water. Further upstream is the famous waterfall 'Dhuan Dhar' meaning 'Fall of Mist' where the Narmada leaves its wide bed and falls 30 feet.
This tourist spot constitutes one of the finest sights of Madhya Pradesh. The Marble Rocks are probably what have changed over the last hundred years, but this timeless attraction still is drawing thousands of lovers of scenic beauty.
Next